Less consumption, less loss and less fuel needed
The TGC method has a significant positive impact on the environment. Reducing the number of machines and tasks required for maintenance saves natural resources as well as fuel. Thanks to automation, the amount of nutrients and irrigation water can be optimised – and, at the same time, quality improves.
Machine sensors continuously provide information on the status of the flora and rootzone throughout the course, down to the accuracy of a single nutrient. The data collected allows the creation of accurate maintenance maps, guiding upkeep, fertilising routines, and other maintenance activities.
Continuous adjustment based on data from GNSS positioning enables more accurate dosing practices, reducing wastage. The right amount of dosing is always targeted at exactly the right places.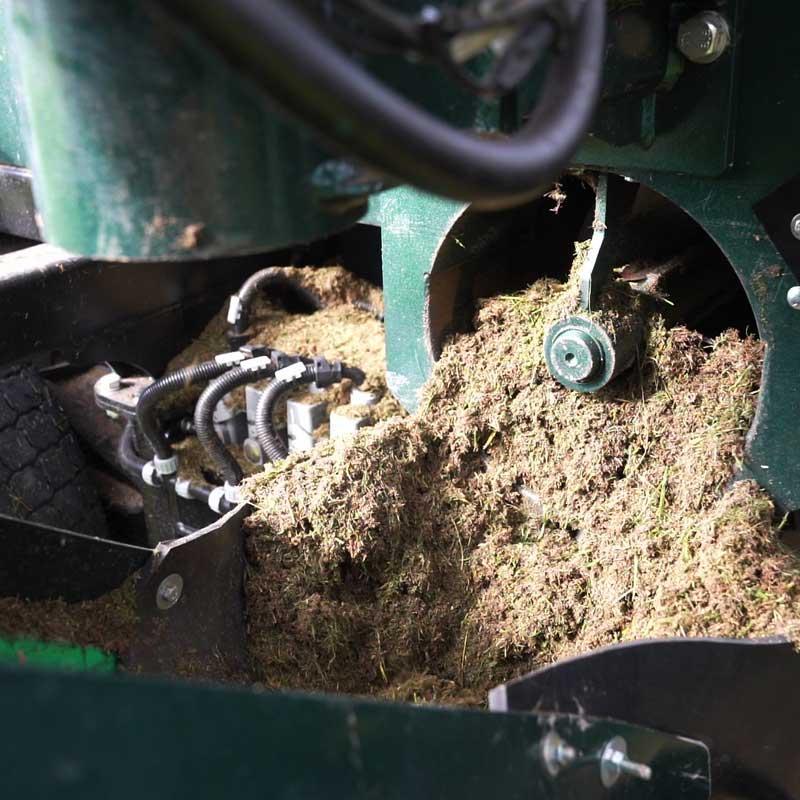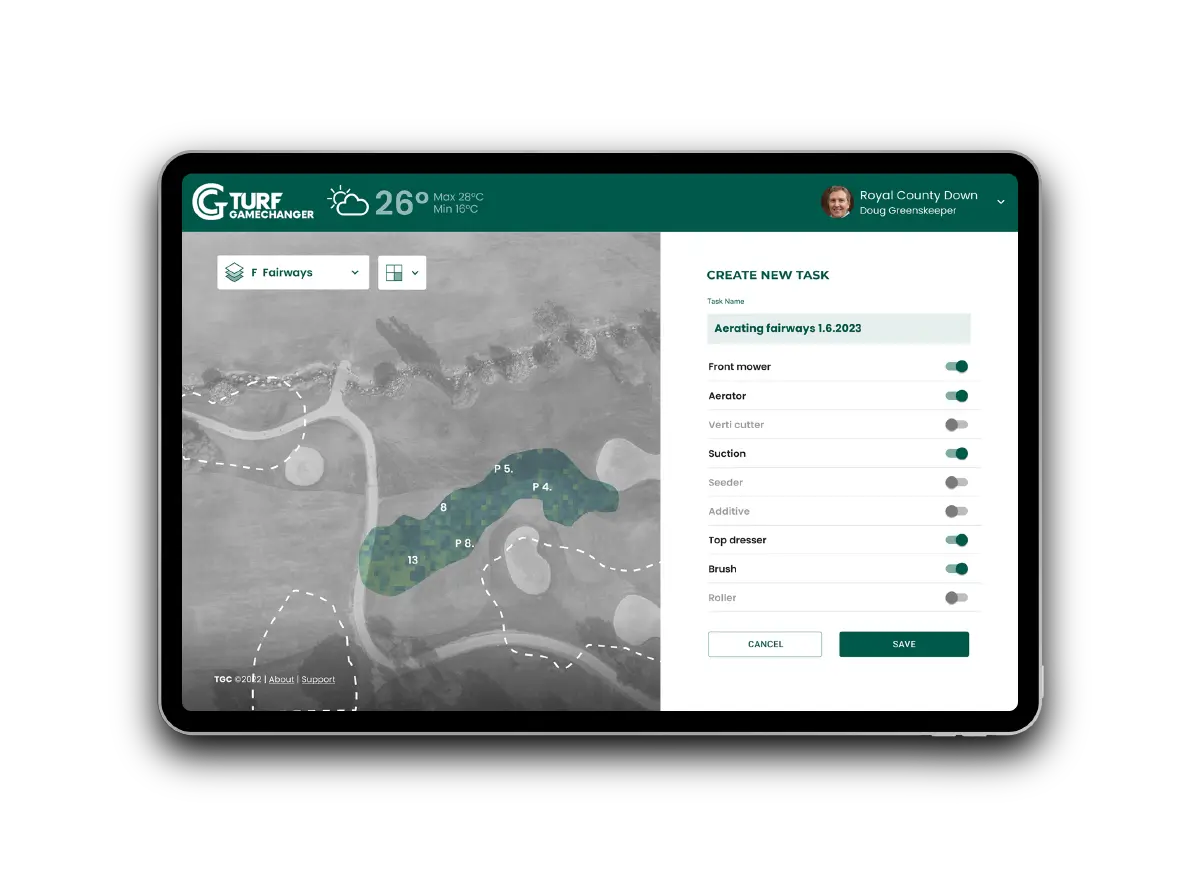 More efficient irrigation for the entire course
Continuous analysis of the moisture levels helps to focus irrigation, i.e., to save water during daily watering. In the long term, this helps prevent fluctuation in the need for watering.
The machines of the TGC method are ideal for adding moisture-absorbing materials directly to the root layer, exactly where moisture is needed. Dosing can be done by means of automation and the watering carried out during other maintenance work.
Less machines, more results
Thatch layer control is traditionally challenging due to the several separate work phases involved. In addition, current methods can be inefficient, with the verticutter having a tendency to clog up or some aeration routes getting blocked during the application and brushing of top dressing material.
The TGC method combines thatch removal, waste collection, fertilising, top dressing, brushing, and, if necessary, sowing, and other maintenance work into a single process. This not only generates savings by combining work phases and performing the necessary tasks in one run, but also provides improvements in quality. When the work phases are merged, the linked work performed on several machines does not reduce the effectiveness of the previous work phase.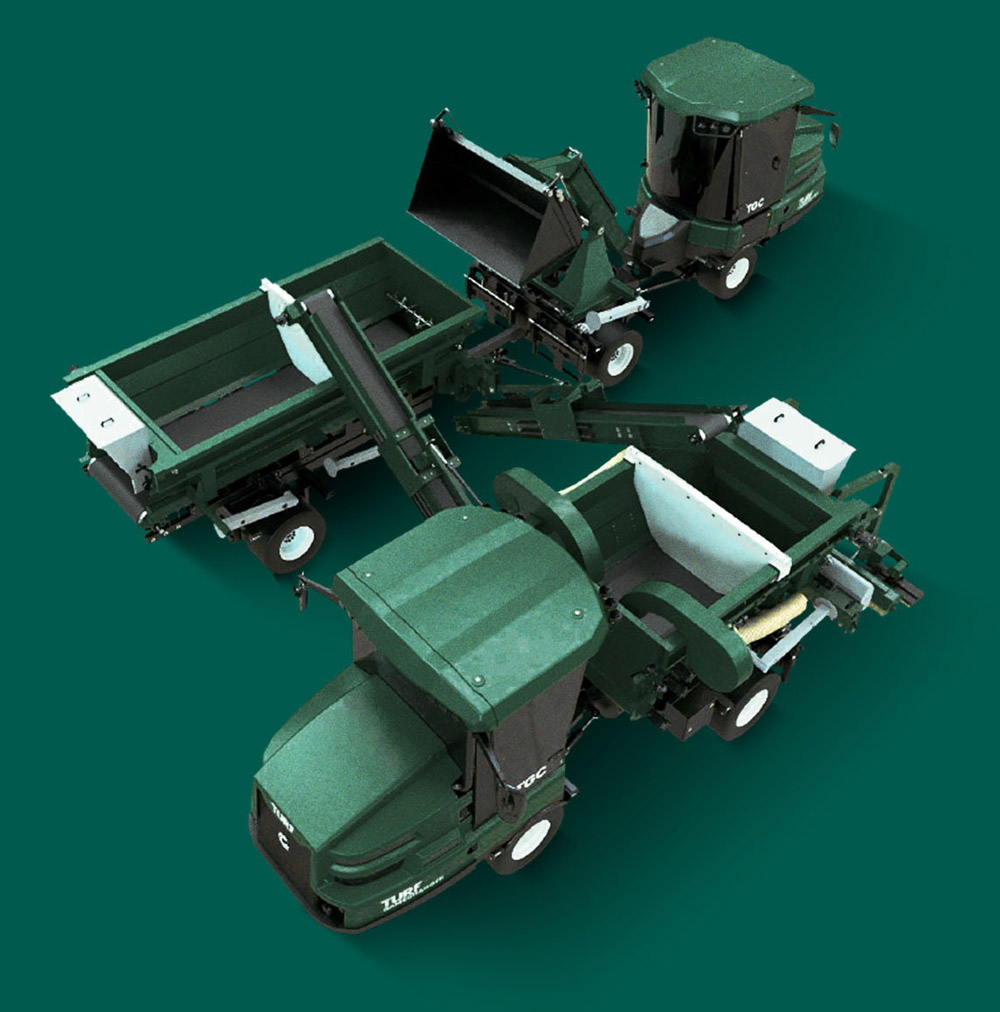 The circular economy: this is how you upcycle your course
The TGC method forms a simple and efficient mixing station where, in addition to compost and sand, up to four different fertilisers or other products can be added to the material. This will provide the exactly the desired kind of soil and top dressing material to be re-used.
When the core or verticutting waste has been collected, it is already in its intended logistics chain, and the compost process can be started during the unloading phase of the TGC Transfer without any additional work phases.
The waste is discharged via a conveyor belt at the back of the hopper, allowing the compost accelerator and any other products supporting the process to be added evenly into the waste. When the waste is composted and later mixed with sand, the sand contained in the collected waste becomes recycled.